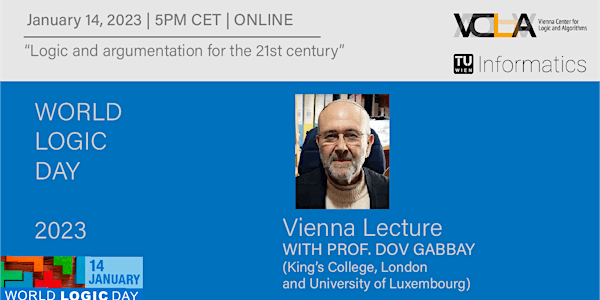 Vienna World Logic Day Lecture 2023 with Dov Gabbay
The Vienna Logic Day Lecture is a free online event to celebrate and enhance the importance of logic in our society.
About this event
Logic and argumentation for the 21st century
Abstract
The reasoning patterns and technological advances in the 21st century used in artificial intelligence, social media, and political behavior present a challenge to current applied logic and argumentation.
The old logic has to adapt, evolve, or die.
This lecture will show (through a case study) how to adapt intuitionistic and classical logics to an algorithmic version capable of handling reasoning failures, fallacies, bias, alternative truth, and other problems.
We shall use a combination of technical tools developed in the past 40 years.
On 14 January 2023, we celebrate World Logic Day. In the city of Kurt Gödel, Ludwig Wittgenstein, and the Vienna Circle, mathematical logic and its application to the sciences have a long and rich tradition. This January we celebrate
Vienna World Logic Day Lecture with Dov Gabbay
Speaker: Dov Gabbay (King's College, London, and University of Luxembourg)
Title: Logic and argumentation for the 21st century
Date: 14 January 2023
8am PST | 11am EST | 1pm GMT-3 | 5pm CET
#Livestream & Q&A Zoom or YouTube
----------------------------------------------------------
Ambassadors of Logic
----------------------------------------------------------
We asked renowned logicians from the fields of computer science, philosophy, mathematics, artificial intelligence to provide us with short statements on the WLD.
This is what they have to say .... (click here)
----------------------------------------------------------
Celebrating World Logic Day 2023 around the globe
----------------------------------------------------------
UNESCO proclaimed World Logic Day in 2019, in association with the International Council for Philosophy and Human Sciences (CIPSH), to enhance public understanding of logic and its implications for science, technology and innovation. "In the twenty-first century – indeed, now more than ever – the discipline of logic is a particularly timely one, utterly vital to our societies and economies. Computer science and information and communications technology, for example, are rooted in logical and algorithmic reasoning." — Audrey Azoulay, Director General of UNESCO
----------------------------------------------------------
Get your ZOOM link (Q&A) by registering
----------------------------------------------------------
Watch the lecture on YouTube
Admission free