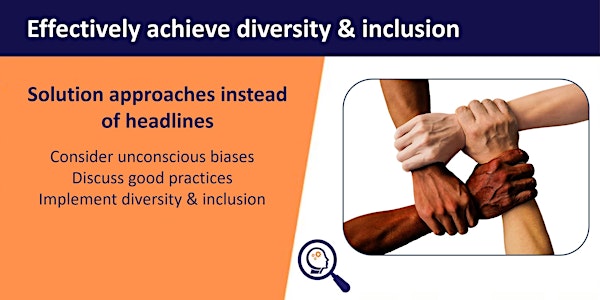 Webinar: Diversity, inclusion & de-biasing
How can we realise the added value of diversity & inclusion? What is holding us back? We discuss ideas for better implementation
Refund Policy
Contact the organiser to request a refund.
About this event
Diversity is an issue - not only during Diversity Days in different countries. More and more companies are declaring "diversity, equity and inclusion" as a central element of their orientation.
But how good are we at implementing it?
Studies have shown that diverse teams work more effectively and achieve their goals better. Economically, therefore, there is a lot to be said for more diversity and inclusion.
On the other hand, there is sufficient evidence that we are making sluggish rather than rapid progress in implementation. Diversity Day, for example, has been around for more than 20 years.
The reality therefore shows that other approaches and measures are needed to make real progress.
Questions like these arise:
What do we mean by diversity and inclusion?
What is preventing us from implementing it better?
What do we need to do to become more effective?
These are all questions that have been with us for some time now - why isn't diversity & inclusion actually a given?
What can we do to become better?
Appreciating the added value of diversity and inclusion is more than a rational question.
It requires a constructive engagement with the factors that work against it.
Unconscious biases are often mentioned in connection with this important topic. They undoubtedly play a central role in non-acceptance of diversity and inclusion. But it takes more than that - this is where the holistic approach of de-biasing comes in.
In this webinar we will look at:
what basis lived diversity & inclusion need,
which biases we need to take into account overall (in the matter and the implementation),
which concrete solution steps are possible.
In the course of my professional career, I have built up and led various teams and therefore experienced the added value of diversity and inclusion on a daily basis.
This webinar is intended as an offer to get to know the essential aspects and to choose the next steps on this basis.
Diversity and inclusion always starts with oneself, the transfer to teams and organisations is the second crucial step.
Also deal with the relevant biases - it pays off!