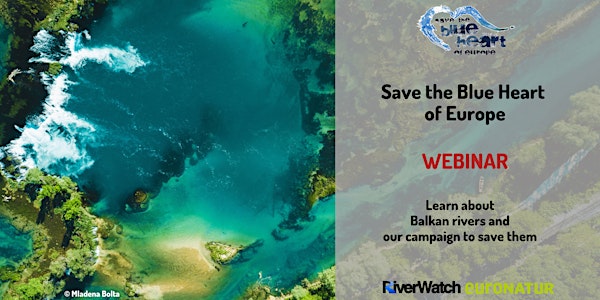 WEBINAR: The Beauties and the Beasts - Balkan Rivers at risk
The unspoiled Balkan rivers are without par in Europe. At the same time the entire river network is threatened by a tsunami of dam projects.
About this event
Do you want to learn more about the river jewels of Europe? About the threat they are facing and our campaign to save them?
We want to provide you with an overview of the situation on the Balkan and how we try to achieve the impossible: to save the Balkan rivers from a dam tsunami of more than 3,400 hydropower projects. Meet the Lawyers for Rivers, learn about the Artists for Balkan Rivers project, about Europe´s last big wild river – the Vjosa in Albania – and many other outstanding rivers on the peninsular.
If you are interested in our experiences, in problems we face as well as in success stories, join our webinar!
Here is some more info about the event program and the panelists:
Overview of the Save the Blue Heart of Europe campaign, including an update on dam projects, our strategies and tools. Presented by Ulrich Eichelmann, Riverwatch and Anntette Spangenberg, EuroNatur
Lawyers for rivers: how to defend Balkan rivers in court (with a focus on Bosnian rivers). Presented by the best defence team rivers can hope for: Maja Pravuljac (Client Earth) and Nina Kresevljakovic (Aarhus Center BiH)
Artists for Balkan Rivers: How to reach the hearts of people? Artists project manager Sabina Sabic will present how to involve celebrities.
Vjosa river: The Vjosa is a major focus of our campaign and it could become Europe's first Wild River National Park. Presented by our Albanian campaign partner Olsi Nika, EcoAlbania
A Zoom link will be sent to registered participants prior to the event.